MT Pro is a dual light source interferometer that integrates single and multiple cores. Combined with Dimension's high-tech independently developed and patented optical system to increase the size of the inspection field of view, the multi-core uses non-contact white light scanning measurement, and the single-core is developed using the principle of red light coherence. It can quickly and automatically detect the index parameters of the 3D shape of the connector surface automatically and accurately, and display and save the measurement results. Equipped with a variety of high-performance testing fixtures, widely used in laboratories and manufacturing.
Main Features
• Up to 1.5um image resolution
• Quick measurement, 0.5s for Single fibre or 5s for 12 core MT High repeat-ability

• High accuracy, calibrated with 0.1nm laser interferometer Ferrule frame mounting

• Compatible with single to 72 fibre measurement

• FOV 4.3*3.3mm, capable for 16 core MT measurement Auto focus and Auto measurement

• Auto calibration with reference mirror

• Quick switch between 0° and 8° fixtures

Up to 1.5um image resolution
MT Pro uses an upgraded optical system to accurately restore the details on the MPO facets and profile. The accurate raw data ensures the trust-able 3D testing results.
Single Fiber Height
The new optical and mechanical design ectend the single fiber height range to -1000~+1000nm, in all testing conditions.
High repeat-ability
10 continuous testing results without plug-in and plug-out.
Repeat-ability of Fibre Height, 12 core MPO


Repeat-ability of Fibre Core Dip, 12 core MPO
Accurate testing result
Each MT Pro system is calibrated with 0.1nm laser interferometer. The accuracy and consistency are committed for the key parameters for MT/MPO measurement, including ROC, Fibre height and Core dip.
Almost identical Coredip Value and fiber morphology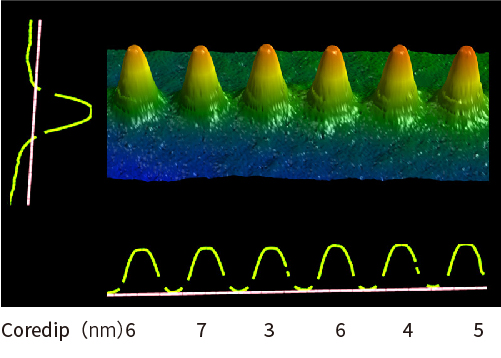 Auto focus
MT Pro can be configured to start a measurement from Auto Focus function. The Auto Focus function can eliminate the difference on each fibre channels. Further more, with Auto Focus function, the measurement procedure is significantly simplified, especially for APC connectors.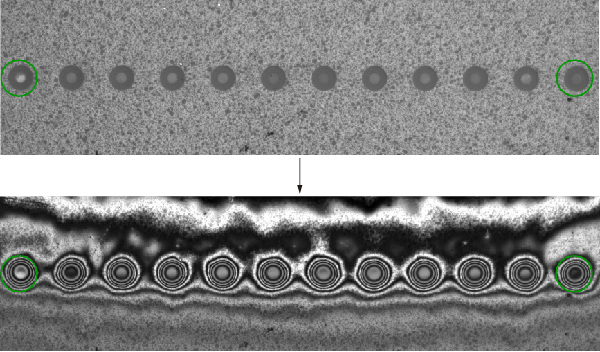 Auto calibration with reference mirror
MT Pro applies reference mirror to calibrate the instrument automatically and maintains the peak performance at all conditions. Compared with manual tuning stage and data compensation, the auto calibration is quick and accurate.


Unique frame mounting fixture for MT ferrule
Dimension uses its patented frame mounting fixture to hold the MT ferrules to be tested.
1. The frame mounting fixture for MT ferrule is compatible with MT4, MT8, MT12, MT16,
MT24, MT32, MT48 and MT72. Only one fixture is needed to test all MT ferrules.
2. Committed accuracy and repeat-ability for Ferrule angle measurement .
3. Endurable and long life time fixture.
4. Safe to PIN hole of DUT.
5. Helpful to analyze the accuracy of polishing jig.
Quick switch between 0° and 8° fixtures
With the special designed fixture platform, 0° and 8° fixtures can be switched quickly. No extra calibration is needed. The high repeat-ability and reproducibility are guaranteed. The fixture platform is compatible for all types of MT/MPO PC and APC products.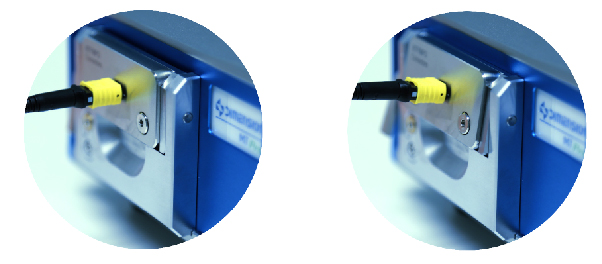 Quick switch between PC and APC

One click operation
Only one clicking is needed to complete the whole measurement procedures, including auto focus, scanning, analysis and all calculations. The testing report will be ready in seconds.
Intuitive software interface and excellent 3D rebuilding
MT Pro applies intuitive and modularized software interface. The real time image, 3D profile, cross section, roughness and testing results are displayed in the user interface. The operation and configuration are convenient and user-friendly. Single/Multi-Channel measurement with one-click switching.
The details of the 3D profile visualize the polishing result and helps to analyze and improve the polishing process.
Quick measurement
The MT Pro hardware and software design improves the speed for MPO measurement. It takes only 0.5 second for single fibre measurement or 5 second for 12 core MPO measurement.
Fixture type
Specifications
Remarks:
*Repeatability and Reproducibility are sigma values.
Repeatability is measure 50 times without moving connectors.
Reproducibility is measure 50 times with pull and plug.
Main application
Used to inspect MTP/MPO PC and APC, MT Ferrule PC and APC, Single Fiber(FC、SC、ST、LC、MU、E2000 PC and APC)