With the rapid development of MT fiber connectors, the quality requirements of their endfaces are becoming more and more stringent. Not only must the MT ferrule endfaces defects be inspected, but also the quality of PIN holes must be checked. EasyGet Wifi MT wireless full fiber endfaces microscope can quickly and easily inspect the MT all fiber endfaces in a large field of view at one time to ensure the reliability of fiber connection. It transfers real-time videos or images via Wifi to intelligent termi- nals, field technicians can visually check the quality of MT full fiber endfaces on their own mobile devices. Lightweight and porta- ble, easy to use, built-in battery, and universal Type C interface and LED lighting, all these user-friendly designs, providing users unparalleled handling experience, making it the most practical MT fiber endfaces inspection tool for technicians.


Main Features
•Wide-field full endface inspection
•Smart interface replacement
•Supports Wifi and USB data transfer
•Real-time viewing and auto-save images, a design that is intuitive and intelligent
•Compatible with mainstream intelligent terminals (Wins/Android/iOS)
•Built-in battery with duration up to 5 hours
•Universal USB Type C interface, compatible with various charging devices
•Unique LED light, flexible for low-light or dark environments
Applications

•5G optical network construction and maintenance
•Data centers
•High reliability fiber connections
•Laboratory and manufacturing tests


Full endface inspection at one time
The unique internal LED lighting method ensures the sharpness and uniformity of the image, and improves the detection area up to 7.03mm * 3.6mm. One-time inspection of the entire end surface image can clearly the detects of the fiber end surface and the surrounding conditions of the PIN hole.

Smart interface replacement
The interface is easy to install and rotate quickly. Replacement with different interfaces can support detection of MPO / PC, MPO / APC, MPO optical module, MT ferrule and other products.
Lightweight and portable, easy to use
EasyGet Wifi MT is lightweight, portable, and durable. Single hand opera- tion and slim body designs enable inspection for even the most complicat- ed scenarios. The unique surround focus ring and image capture button, makes the fiber endface inspection easier.
Wifi Data Transfer
EasyGet Wifi MT can transfer the fiber end face images to various display terminals via Wifi. By pressing the button on the body or click on smart devices, users can capture the fiber endface images or save them on display terminals, a conve- nient way to view and save images online.
Wide OS Compatibility

EasyGet Wifi MT software is widely adaptable and can be used on PCs and various mobile devices with mainstream operating systems (Wins/Android/iOS). You can use smart phones, laptops, or tablets directly for convenient operation. Scan the QR code on the body to download and install the EasyGet Wifi APP. The software is available on main online markets. No special training is required and the installation is easy and convenient.

Intuitive interface, intelligent displays

EasyGet Wifi MT has the most user-friendly design. The interface is simple, intuitive and intelligent. In addition to viewing and recording the fiber endface status, users can pinch-zoom images, and rotate the screen as desired


Universal USB Type C interface
EasyGet Wifi MT has a built-in rechargeable intelligent battery with duration up to 5 hours in a single operation. It also can be used while charging. EasyGet Wifi is equipped with an universal USB Type C charging interface, which is compatible with various charging devices, such as PC's USB interface, power bank, etc. Users do not need to carry a dedicated charging device.

Unique LED lighting

EasyGet Wifi MT is equipped with LED light, which can be easily used even in low-light or dark environments and provide Dimension customers with great convenience.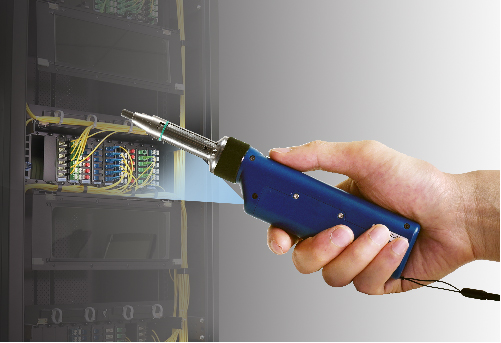 Specifications
要应